Beatles Remastered
From Beatles Wiki - Interviews, Music, Beatles Quotes
<seo metak="beatles remastered remasters remastering" metad="The Beatles remastered catalog were released in September 2009. This page tracks the news and information about Beatles remasters." />
Oct 23, 2009: Review & Analysis of the Beatles Remasters
James N. Perlman's detailed analysis of the audio quality and musicality of the new mono and stereo Beatles remasters is a must read. Check it out....
Oct 20, 2009: Lively Discussion on Amazon.com Re the "Limited Edition" Mono Box Set
A hornet's nest was stirred up when a customer questioned EMI's and Apple's motives in marketing the Beatles Mono Remasters Box Set as a "limited edition" and leaking the quantity to be 10,000 copies while retaining Plausible Deniability as to that amount, as it appears there will be as many manufactured as the market demands. Read the whole sordid tale....
August 7, 2009: Interview with Beatles Remastering Engineer Allan Rouse
Here's an interview of Abbey Road engineer Allan Rouse by Steve Marinucci. Rouse talks - fairly boringly and begrudgingly - about the process of remastering the Beatles albums.
July 15, 2009: Box of Vision
If you plan on buying both the Stereo and Mono box sets, but still feel the need to blow even more cash, why not invest in the 'Box of Vision': a box to store the contents of your box sets it. Includes a 200 page, LP-sized book with reproductions of Beatles album covers and artwork.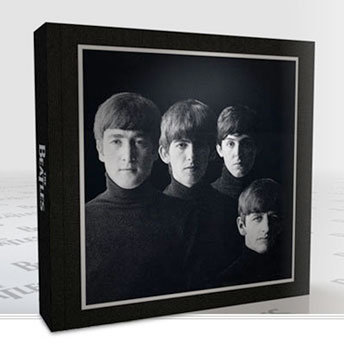 Beatles artwork comes to Reissue Storage Set
July 8, 2009: Creater of Many Beatles Remasters from Vinyl, Dr. Ebbetts, Retires!
Dr. Ebbetts sent out an email to his many fans, stating that he'd heard some of the new Beatles remasters coming out on September 9, 2009, that they are far superior to his remasters from pristine vinyl, and that he'd no longer be offering his remasters and was abandoning his years-long project. As he said, he only initiated his project of creating remasters because the Beatles CDs on the market, produced in 1988, were inferior.
Dr Ebbetts took The Beatles blue box releases, which many believe is the best vinyl representation of the original Beatles recordings, and put on a beautiful polish. Digitally transfered from virgin vinyl and remastered with meticulous attention to detail, Dr. Ebbetts brought out the warmth and shine sorely lacking from the official EMI releases. The blue box collection of re-masters is considered by many to be the best versions of The Beatles albums available.
June 10, 2009: US Apple Store 'Remasterded' Blunder
It's to be hoped that the wording blunder on the US Apple Store is not an indication of a general sloppiness we can expect to bedevil these releases.

June 10, 2009: Pictures of Remaster Box Sets at Beatles.com UK Store
You can view images of the Mono and Stereo Remaster Box Sets at the Beatles.com UK Store.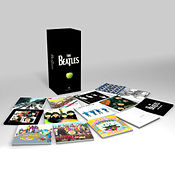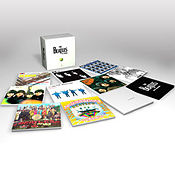 The first clear pictures of the remastered box sets are now up on the Beatles website UK store. The stereo set is listed at £199.99, which translates to $326.30 at current exchange rates.
The mono set is listed for £209.99, which is $342.97 roughly in U.S. dollars.
(N.B. It has been pointed out that the CD's spread out in front of these boxes do not look like the individual remastered CD's as advertised on Amazon etc. The CD's shown with the box sets do not have the distinctive sidebars with the Apple logo on them.)
Apr 8, 2009: New York Times Article
As has been widely reported, EMI will be releasing remasters of all 12 Beatles UK albums on 09.09.09. However, there is as yet no decision on their availability on iTunes or other etailers.
Apr 7, 2009: Beatles Remasters Announced for Sept 9, 2009 Release!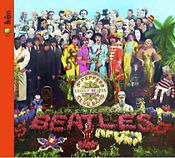 If you search Beatles Original Recording Remastered at Amazon.co.uk, you will be pleasantly surprised to see many of the Beatles releases available for pre-order! The release date is set for September 9, 2009. OK, that's 09.09.09 (get it?) They are also listed at the UK online retailer HMV. It will be released simultaneously with "The Beatles: Rock Band" video game.
You can check to see if they're available for pre-order at Amazon.com USA, but as of 7:30pm PST on April 7, 2009, they weren't.
Beatles.com News Release
TheBeatles.com (the "official" site) has a news release with details. Here are highlights:
Each of the CDs is packaged with replicated original UK album art, including expanded booklets containing original and newly written liner notes and rare photos. For a limited period, each CD will also be embedded with a brief documentary film about the album. On the same date, two new Beatles boxed CD collections will also be released.
The collection comprises all 12 Beatles albums in stereo, with track listings and artwork as originally released in the UK, and 'Magical Mystery Tour,' which became part of The Beatles' core catalogue when the CDs were first released in 1987.
A second boxed set has been created with the collector in mind. 'The Beatles in Mono' gathers together, in one place, all of the Beatles recordings that were mixed for a mono release.
There's no mention of alternate takes or unreleased tracks.
RollingStone.com Article
RollingStone.com has an article on the Beatles remasters. Highlights:
The press release didn't include news regarding a possible deal with iTunes or another digital-music vendor to distribute the catalog digitally: "Discussions regarding the digital distribution of the catalog will continue. There is no further information available at this time," the press release reads. Both Apple Corps. and Paul McCartney have expressed reluctance to release the Beatles' music digitally until all the albums had been remastered. The solo work of each of the four Beatles is available on iTunes.
The Beatles Remasters:
Please Please Me
With the Beatles
A Hard Day's Night
Beatles for Sale
Help!
Rubber Soul
Revolver
Sgt. Pepper's Lonely Hearts Club Band
Magical Mystery Tour
The Beatles (The White Album)
Abbey Road
Let It Be
Past Masters
Yellow Submarine
All the Online News, via Google News
Beatles Remasters - When???
Currently, the only Beatles tunes available in remixed and/or remastered from the original master tapes are on two CDs:
Yellow Submarine Songtrack (1999)
Love (2007)
Remixed at Abbey Road Studios, the tracks of Yellow Submarine Songtrack feature many alterations and adjustments from the original stereo recordings. All of The Beatles songs included in the film are on Yellow Submarine Songtrack, with the exception of "A Day in the Life", which was not put in because EMI did not want too many songs from Sgt. Pepper's Lonely Hearts Club Band to be included.
The Love album is a stunner and, as a teaser, shows what might be in store when the entire catalog is finally released. George Martin and his son managed to create an amazing "new" collection of Beatles material from the rich store of masters at EMI.
There are also two four-disc boxed sets that sound somewhat better than the late-1980s CDs:
However, the CDs in these two boxed sets do not contain the original George Martin mixes released in Britain in the 1960s. Instead, the CDs were mastered from mixes prepared by Capitol A&R executive Dave Dexter, Jr., who, in 1965 took the submaster tapes from Capitol Records' vaults and added reverb to several tracks and simulated stereo on mono tracks (the proof that these are Dexter's mixes being the false start on "I'm Looking Through You"). Initially, however, the CDs only used Dexter's stereo mixes, with the mono tracks consisting of the two stereo channels folded into a single channel. Dexter's mono mixes were made available on the second pressings of these albums. [1]
The latest news on the remastering
March 18, 2009
From: guardian.co.uk
The long-awaited, remastered Beatles' catalogue may finally be making its way to your computer sometime this year. But don't bet on it being on iTunes.
Paul McCartney and Ringo Starr, along with the estates of the late John Lennon and George Harrison, are said to be looking into the possibility of releasing the material on their own website.
Talks between Apple and The Beatles to resolve royalty disputes have been on-again and off-again for years, and according to Harrison's son Dhani, the situation has reached a tipping point.
Harrison, 30, told Blender magazine that The Beatles' camp still isn't satisfied with what they're being offered by Apple, and they may go elsewhere to release the remastered catalogue.
"We're losing money every day," said Harrison. "So what do you do? You have to have your own delivery system, or you have to do a good deal with Steve Jobs.
"But he says that a download is worth 99 cents, and we disagree."
It appears as though Dhani Harrison, who has his own band called thenewno2, is having increasing pull in how The Beatles' business is conducted. Just recently he revealed that he convinced the surviving Beatles and Yoko Ono to agree to the upcoming The Beatles: Rock Band project.
"The game blows my mind," said Harrison. "It's infinitely better than Rock Band 2."
January 5, 2009
The Beatles' Catalog Finally Goes Digital Thanks To Norwegian Podcasts
Rolling Stone magazine online reports that the Beatles' entire catalog will become available via a Norwegian podcast series:
The Beatles will reportedly make a bulk of their musical catalog available as a free, legal download thanks to a series of Norwegian podcasts. In 2001, the Fab Four were the subject of a documentary series entitled "Vår daglige Beatles," or "Our Daily Beatles," in which Norwegian journalists told the stories behind every track in the Beatles official catalog in chronological order, with the tracks themselves being played after the story was told. Now, for the first time ever, the series is available as a downloadable podcast, marking the first time the Beatles music in any form has been legally available via download. Despite efforts to finally bring the Beatles to iTunes, Paul McCartney said talks between Apple Corps. and EMI Records have "stalled."
December 2008
On Murmurs.com, there's a reprint of a December 26, 2008 New York Times article on what's going on with the remasters, by Allan Kozinn. It discusses what's going on (although no light is shed on the issues between the Beatles and EMI), the Purple Chick series, and the fans. Check it out.... It also references an addition to The Beatles entry on Wikipedia:
All albums by the Beatles (including Past Masters, Volume One and Past Masters, Volume Two) will be released newly remastered sometime in 2009 on CD. The 2009 remasters will replace the infamously poor quality 1987 remasters. Mojo Magazine's Mat Snow was invited to hear 10 remastered tracks from 1968's The White Album and stated that they were "Better even than we'd hoped."
The Audioholics Forum has a good thread discussing the remasters, mentioning MOJO magazine's teaser about "sometime in 2009" and speculating on sound quality etc. Worth checking out.
November 2008
From The Motley Fool Financial Website
Nov 26, 2008
If Apple Corps is Sgt. Pepper, then EMI is the Nowhere Man.
On Monday, rocker Paul McCartney said that negotiations between the Beatles' record company and label EMI, which owns the rights to the group's recordings, have stalled. Each has a say in how and when The Beatles will publish to iTunes.
"The last word I got back was it's stalled at the whole moment, the whole process," McCartney told the Associated Press. "I really hope it will happen, because I think it should."
Us, too, Sir Paul. Apple Corps and Apple (Nasdaq: AAPL) became embroiled in a trademark dispute in 2006 that lasted about a year. We've been waiting for the White Album on iTunes -- or maybe Help!, a personal favorite of mine -- ever since both sides decided to come together and work it out.
Do EMI and Apple Corps. know what they're missing? Certainly McCartney sees the value in digital sales, as do other labels. Warner Music Group (NYSE: WMG) recently reported a 28% year-over-year gain in digital sales. Universal Music, the largest label in the biz, said its digital take was up 33% for the first nine months of the year.
Perhaps EMI is the stumbling block. Apple Corps and Viacom's (NYSE: VIA) Harmonix, the makers of Rock Band, last week struck a deal to create a Beatles version of the game, VentureBeat reports.
October 2008
There's quite a bit of noise now about The Beatles remasters, and this website has a good thread on developments. Apparently, The Beatles music will be finding a digital home on MTV Games' Rock Band, according to this news article. "MTV Games, creator of the hit game Rock Band, and Apple Corps, which owns the rights to The Beatles' music catalogue, announced Thursday (Oct 30, 2008) that they plan to create a title that will feature only music from the Fab Four."
June 2007
Beatles fans will probably have to wait until next year before they can buy the Fab Four's tunes from online retailers such as Apple's iTunes store, George Harrison's widow has said.
A recent settlement to a lengthy trademark dispute between Apple and the Beatles' company, Apple Corps, has cleared the way for the band to distribute its catalogue in cyberspace.
But Olivia Harrison told Reuters, 'We just have a few things to work out elsewhere.'
Specifically, all the Beatles CDs have been remastered - good news for fans who have long complained about the poor sound quality - and the organisation wants to get the artwork ready for the physical packages.
Asked if the catalogue would be available online by the end of next year, she said, 'Oh God, yeah. Hope so ... I don't know if it would be the end of this year, but it would be nice. Imminent, let's put it that way.'
Paul McCartney, who has adopted an aggressive digital marketing strategy for the release next week of his solo album, Memory Almost Full, said last month that an online deal for the Beatles catalogue was 'virtually settled' - perhaps over the cheesecake he delivered to Steve Jobs, Apple's CEO. But he, too, shied away from saying that anything would happen in the short term.
The Beatles are the highest-profile omission from digital retailers. While the dispute with Apple did not help, the band's organisation has traditionally adopted a conservative approach to new technology, including CDs.
'I think we're a little bit behind,' Harrison said, noting that it was 'ridiculous' that properly remastered CDs of the band's catalogue were not yet available.
'We [the band's members and widows] all agree. It's been done. It's just trying to now get it out there.'
She said that Neil Aspinall, the recently retired [now deceased] businessman who oversaw the group's complex business affairs, had been busy in recent years on the remastering project.
'That's a big job. That means you have to go back through all the archives and find great photographs and really give a nice package to the fans.'
Aspinall retired in April and was replaced by Jeff Jones, an American music industry executive who specialises in deluxe reissues of classic albums. Harrison said Aspinall's departure was voluntary, dispelling fan speculation to the contrary.
But she said Jones would 'pick up the pace' now that the most recent project, a Beatle-inspired Cirque du Soleil stage show in Las Vegas, was underway after years of preparation initiated by her husband before he died in 2001.
Reuters and Simon Aughton[2]
The Capitol Albums, Vol. 1
The Capitol Records LP's issued in 1964 were resurrected with the issue of this boxed set. Remastered from the original Capitol Records master tapes, these records were best known to American audiences before EMI's initial CD issue of the first four Parlophone LP's in 1987, causing their deletion. The initial effort to internationally unify the catalogue caused some state-side confusion, as the song programs and monaural sound deviated from the familiar product.
The Capitol Albums Vol. 1 includes four CD's packaged in mini-album sleeves that mimic their vinyl counterparts. The titles are: Meet The Beatles!, The Beatles' Second Album, Something New, and Beatles '65.
Meet The Beatles!, the group's iconic Capitol debut, was initially distinctive in its originality, featuring eleven Beatles compositions out of a program of twelve songs. The Beatles' Second Album relied somewhat more on covers and includes two of their best: John's landmark vocal on Barrett Strong's "Money (That's What I Want)", and Paul's one-take-to-glory shot of Little Richard's "Long Tall Sally". Something New was culled from recording sessions for the Parlophone LP A Hard Day's Night and offers the cleverly constructed "Any Time at All", with its overlapping couplets, and "If I Fell", with one of John and Paul's best two-part harmonies.
The set is rounded out with Beatles '65, perhaps the most notable inclusion for its underscoring of programming and artistic differences between EMI and Capitol. The corresponding Parlophone LP, Beatles For Sale features the most underrated cover photo in the history of rock with the Beatles staring in utter bewilderment. This is clearly intended to be a silent statement by the artists that the mania was taking its toll. Capitol replaced this display of candor for Beatles '65 with a series of group photos that did nothing to alter their "happy moptop" image. The music, on the other hand, deceived no one who really listened: "No Reply", "I'm A Loser", and "Baby's In Black" left no question that the mood had darkened.
Although prepared from master tapes at least one generation removed from the original masters, The Capitol Albums Vol. 1 offers some sonic improvements over the 1987 CD's. Each CD in the set includes both the early four-track stereo and mono mixes of the time for each song. The stereo versions in this set are audibly brighter with greater bass definition and vocal presence as compared to the previously available material, especially true on Something New and Beatles '65, and are recommended at least until the remastered British catalogue becomes available.
The Capitol Albums, Vol. 2
The Capitol Albums Vol. 2 offers reissues of the group's four American LP's originally released in 1965: The Early Beatles, Beatles VI, Help! Original Motion Picture Soundtrack and Rubber Soul. As presented in the preceding box-set, all discs are packaged in sleeves that recall the original jacket designs and include stereo and mono mixes of each song. The Early Beatles is made up of eleven tracks from their British debut LP Please Please Me not previously released in album form. One of the disc's highlights is perhaps the Beatles' most popular cover of all time, "Twist and Shout". Capitol's choice to program "Twist and Shout" as the album's second track is somewhat curious in retrospect as this song was so often their concert finale, effectively taking down whatever was left up of the house. In comparison to the sound on the previously available Parlophone CD Please Please Me from 1987, it is worth hearing this remastered track (and several others on the disc) in stereo.
Beatles VI is derived from the greatest number of sources including two Parlophone LP's, Beatles For Sale and Help! (album), a B-side single, "[Yes It Is]", and a cover version of Larry Williams' "[Bad Boy]", which was intended only for American release. Although Beatles VI reached number one on the Billboard Charts and appeared for a total of 41 weeks, it is conceivable that by this point, Capitol's slicing and dicing of the Beatles' discography was becoming irritating to the artists themselves.
The incidental film background music on Help! Original Motion Picture Soundtrack is of interest only to hard-core completists and, unfortunately, makes up the majority of this set's third disc. Listeners who have purchased the Help! DVD from 2007 will have rendered this instrumental material completely inessential. From a standpoint of content, the Parlophone Help! (album) CD from 1987 is still far superior.
It is perhaps ironic that the last of the Beatles 1965 releases, Rubber Soul, arguably benefitted from Capitol Record's programming changes. For it's American incarnation, Rubber Soul kicks off with Paul's "I've Just Seen a Face", raised in prominence from the B-side of the British Help! (album) LP. This, along with several other programming changes effectively set the tone for a subtley different, yet just as enjoyable listening experience compared with the Parlophone version of the album, as pointed out by Mark Lewisohn in the boxed-set's included liner-note book. It is notable that the version of Rubber Soul included here provided competitive inspiration for Brian Wilson to create and produce The Beach Boys' Pet Sounds, one of rock history's greatest achievements. In terms of sonics, listeners will note a clearer high end in the instrumentation, as well as improved bass definition as compared to the same tracks on the 1987 Rubber Soul CD.
External Links