The Love You Make
From Beatles Wiki - Interviews, Music, Beatles Quotes
The Love You Make: An Insider's Story of The Beatles
by Peter Brown (with Steven Gaines)
First Published by McGraw-Hill (US) and Macmillan (UK), 1983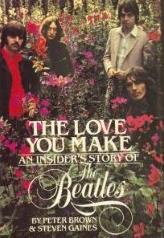 ---
Synopsis
Both this books's title, and its author's name, represent powerful fragments of Beatles lore. Peter Brown was best man at John Lennon's wedding to Yoko Ono - in fact he also later filled the same role for Paul McCartney - and was immortalised by Lennon, in 'The Ballad of John & Joko', as the man wo "called to say, you can make it ok, you can get married in Gibraltar near Spain". The book's title is taken from the appropriately-named Beatles song 'The End', quoted in the frontispiece:
"
And in the end

The love you take
Is equal to the love
You make.

"

—The last lyric from the last song on the last Beatles album
However, nothing is ever simple in Beatles-land. A pedant could argue that 'Abbey Road' wasn't the Beatles' last album, since 'Let it Be', while recorded earlier, was released after it, and in any case 'The End' was not the last song on the finalised running order, being supplanted at the last minute by 'Her Majesty'. Still, great title for a Beatles book, and 'love' was always a subject close to the Beatles' hearts.
Peter Brown, meanwhile, may not have been so much of an 'insider' as either his appearance in Lennon's self-mythologising ballad, or the subtitle of his book, suggest. He certainly can't claim to have been a member of the innermost circle of Beatles intimates - the so-called 'Liverpool Mafia' - such as, say, Neil Aspinall. This has led to some criticism, and it's true that Brown sometimes 'makes up' dialogue or thoughts for events and situations at which he was not a first-hand witness; but he was enough of an insider that he has an immensely interesting story to tell, and lucky for us he tells it in a brisk and entertaining way.
---
Focus
---
Structure
---
Style
---
Content
---
Criticism
---
Editions
---
References