Mike Leander
From Beatles Wiki - Interviews, Music, Beatles Quotes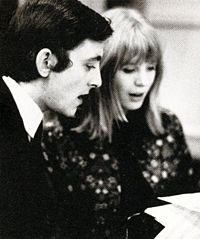 Mike Leander (30 June 1941 – 18 April 1996) was an arranger and record producer for Decca Records in the 1960s. He worked with such artists as Marianne Faithful (he arranged the strings for her first single "As Tears Go By" in 1965), Billy Fury, Marc Bolan, Joe Cocker, The Small Faces, Van Morrison, Alan Price, Peter Frampton, Keith Richards, Shirley Bassey, Lulu, Jimmy Page (while at Decca Records, he was the first to offer Page regular session work), Roy Orbison, and Gene Pitney.
He also worked as a producer/arranger with Ben E. King and The Drifters on the Atlantic record label and was the recording engineer on The Beatles' "She's Leaving Home" from Sgt. Pepper's Lonely Hearts Club Band.
With Keith Richards, he arranged the Rolling Stones' version of the Jagger-Richards composition "As Tears Go By."
He was Executive Producer of the Andrew Lloyd Webber/Tim Rice concept album Jesus Christ Superstar and in the late '60s wrote several film scores including "Privilege" with Paul Jones and Jean Shrimpton, "Run a Crooked Mile" with Mary Tyler Moore and Louis Jourdan and "The Adding Machine" with Billie Whitelaw and Milo O'Shea.
In the 1980s he wrote the musical Matador which gave Tom Jones a hit album and single "A Boy From Nowhere."
Other Resources